When most people hear the word "Smithsonian," they think of the museums lining the National Mall or maybe the National Zoo. But the Smithsonian is also a global institution working on projects around the world, from saving endangered species to safeguarding priceless artifacts.
For nearly a decade, one project in particular has been taking Smithsonian Exhibits' graphics supervisor, Scott Schmidt, more than 7,000 miles away from Washington, D.C., to monasteries in India. It's called Science for Monks and Nuns.
This unique program began in 2001 as a way of creating a dialogue between Western science and Tibetan Buddhism—something the Dalai Lama (the spiritual leader of Tibet) has long encouraged.
Every year, Science for Monks and Nuns brings Western scientists to India to engage monks and nuns (known collectively as monastics) in hands-on workshops on a variety of topics, including biology, neurology, cosmology, math, and physics. After the workshops, the monastics return to their communities to share what they have learned and continue their studies. In 2009, the group began creating exhibits as another way of sharing what they have learned with others.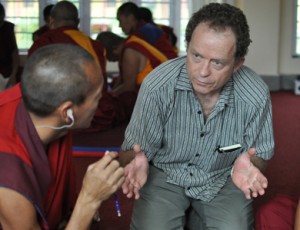 Scott got involved in the project in 2010 through a request from the Smithsonian Center for Learning and Digital Access. Since then, he has used his exhibit skills to provide training and assist the group with planning and developing exhibits. In addition to the Smithsonian Institution, Science for Monks and Nuns partners with the Exploratorium in San Francisco and several universities in the United States.
Over the years, Scott and his colleagues have helped create two major science exhibits that have traveled throughout India, Nepal, and Bhutan; facilitated workshops and training sessions; and consulted on the creation of permanent science centers and "tinker spaces" at monasteries. A tinker space is a space with tools to build structures and prototypes demonstrating scientific phenomena, which are used in the workshops and exhibits.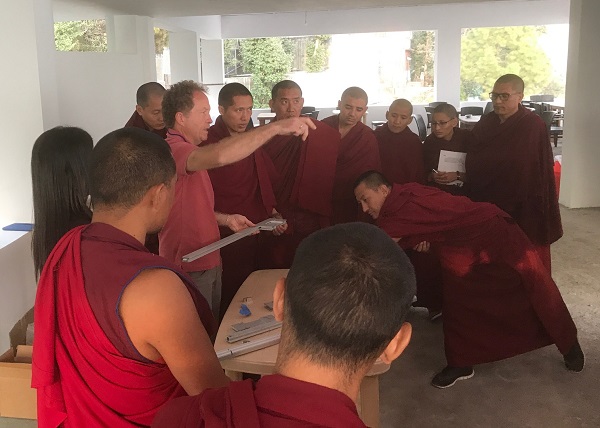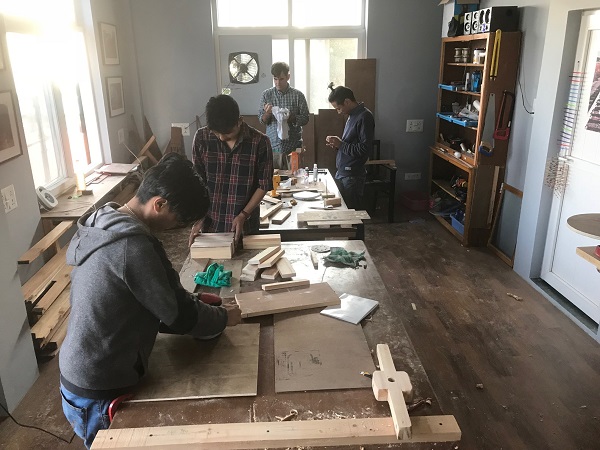 The first exhibit Scott worked on, The World of Your Senses, explored parallel Western and Buddhist perspectives on the five senses.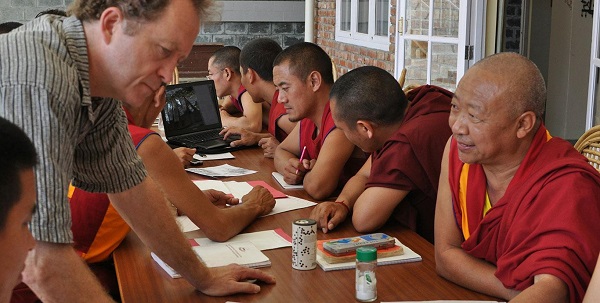 The exhibits are truly cross-cultural, combining elements of both Western and Tibetan philosophy and design. For The World of Your Senses, the monks decided that the panels should be painted like thangkas, a traditional Tibetan style of religious paintings.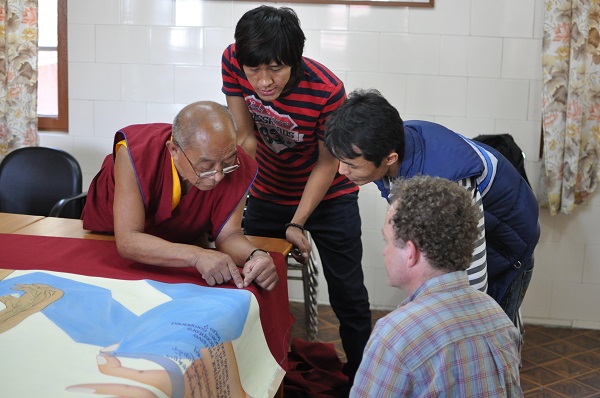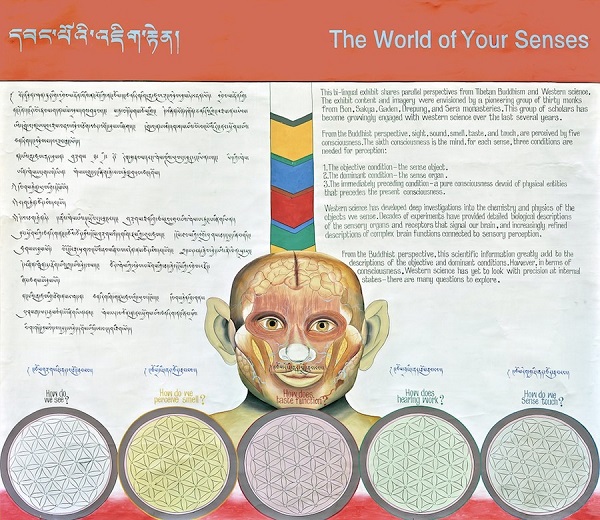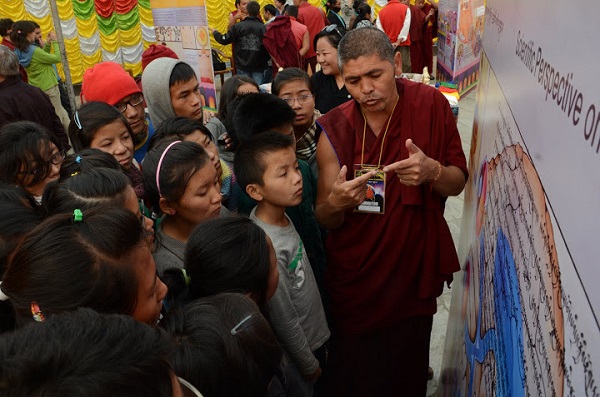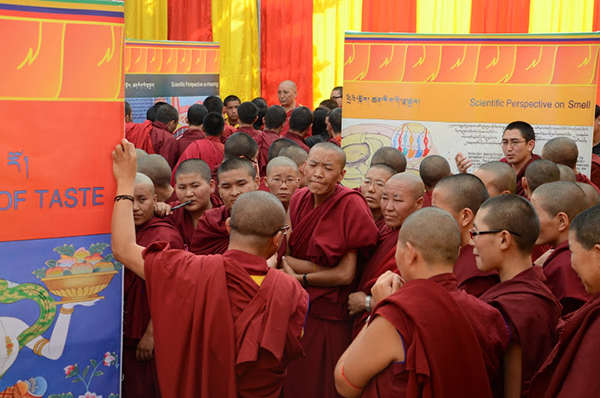 The second exhibit Scott worked on, My Earth, My Responsibility, focused on climate change.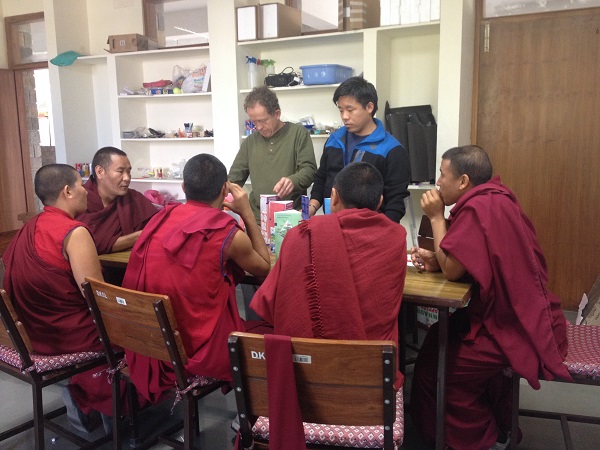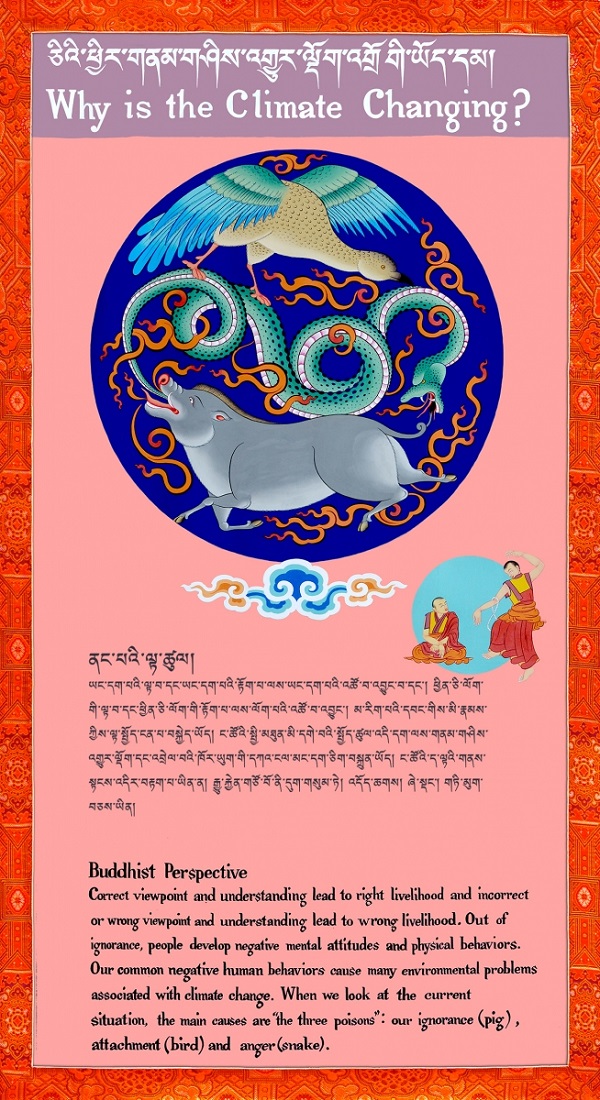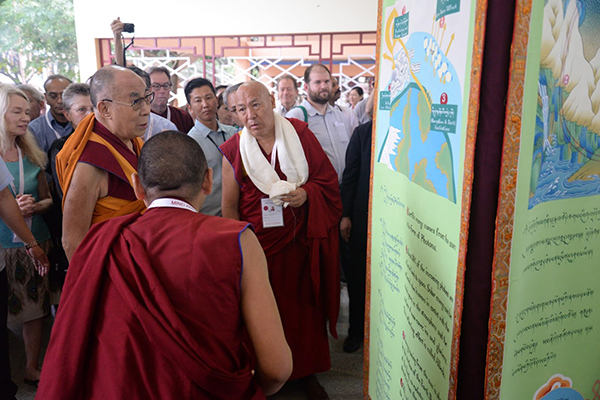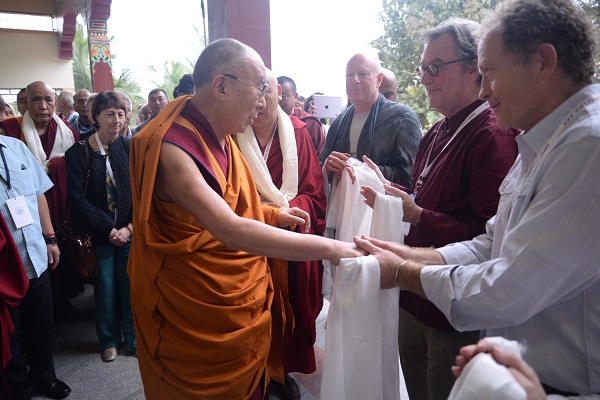 The work that goes into these exhibits is intense. Scott and his colleagues spend weeks at a time in India, working with the participants to plan, develop, and fabricate the exhibits.
One of the biggest challenges is translating complex scientific and metaphysical concepts into a few paragraphs of English and Tibetan text. "It can difficult to communicate concepts and words for which there may be no Tibetan equivalents," says Scott. However, with the help of monastics and a great team of interpreters at the Library for Tibetan Works and Archives, this challenge has not been a roadblock.
Another challenge Scott enjoys is scouring the local markets for the materials and tools needed to build the exhibits. (You can't just pop into the local Home Depot.)
Throughout the six visits Scott has made to India so far to work with the program, he has come away inspired, renewed, and with new insights to bring back to his everyday life. "Collaborating with colleagues Tracie Spinale, Stephanie Norby, and Darren Milligan at the Smithsonian Center for Learning and Digital Access has been wonderful," says Scott, "and watching the program and monastic students develop since that first exhibit in 2010 has been a joy.
Scott looks forward to continuing his partnership with the program. "It's amazing to have the opportunity to experience different cultures and traditions firsthand," says Scott. "It reminds you that the Smithsonian is a global institution. Our mission, 'the increase and diffusion of knowledge,' reaches far beyond the Mall to cultures isolated by politics, religion, distance, and education. And it is certainly a two-way street. I have often returned wondering if I did not learn more than teach."
All photos by Bryce Johnson unless otherwise noted.
To learn more:
"Seeing Science through a spiritual lens, with the Smithsonian's help," The Washington Post
Beyond the Robe by Bobby Sager, the primary funder of the Science for Monks and Nuns program
Humble Before the Void by Chris Impey, one of the many Science for Monks and Nuns teachers
The Universe in a Single Atom by His Holiness the Dalai Lama, great for understanding his love of science and its positive effect on Buddhism.
Thanks to former SIE intern Elizabeth Polvere for her help in developing this blog post.