Happy Birthday to Us!
Okay, so a little early—our actual birthday is August 10—but it's been a weird year and if we want our cake and comics a little early, so be it.
This year, the Smithsonian turns the big 1-7-5! Which according to my notes … is well past human lifespans so I get to make up the traditional gift. I'm going with cake and comics, which works for two reasons:
Cake is a timeless birthday tradition in the U.S. (Also, I really want to work on an exhibit about cake, so if anyone out there is in the position to make that happen, please email me. Thanks!)
SIE's very own Evan Keeling was asked to create a birthday comic for the Smithsonian. It appeared in Impact magazine but you can see it here.  (Also, please note that the version in the link is accessible to those using screen readers.)

Impact is written by a team at the Smithsonian's Office of Advancement. The magazine is for a range of donors and volunteers across Smithsonian's museums, research centers and the National Zoo. It gives readers a sneak peek into stories they might not have otherwise known. An audience that is just learning about us for the first time would likely have the usual questions:
Okay, I don't think anyone is asking that last one all that often, but it's a great bit of trivia you can use to impress your friends.
An audience that's already visiting and supporting the Smithsonian regularly probably had a chance to get those answers before. The Impact group wanted something that would, well, have a little more impact for their readers.
Highlighting Moments Instead of Dates
Elise Walter, one of the writers in Advancement, saw Evan give a presentation about how to effectively use comics as a storytelling device at our Open House in 2019. She already knew that Advancement wanted something a little different for the 175th anniversary. Using a comic would let them highlight individual moments of Smithsonian history and let each story take on its own point of view.
Elise enlisted Pam Henson at the Smithsonian Archives to help select stories that could be developed into comic panels. As they chased down the best stories for the comic, they knew they wanted to find some of the more obscure bits of Smithsonian history.
Visual Storytelling
The selected stories were interesting—real hidden gems of the Smithsonian. But were they visually compelling? They consulted with Evan throughout the process, who helped them determine what stories would work in a visual way, and what characters could pull a reader in. Different stories required different points of view. Some comics needed multiple panels; some stories benefitted from one larger panel to represent the outcome. Comics can be used to achieve numerous types of storytelling in the same publication, as the examples below show.
Playing with Perspective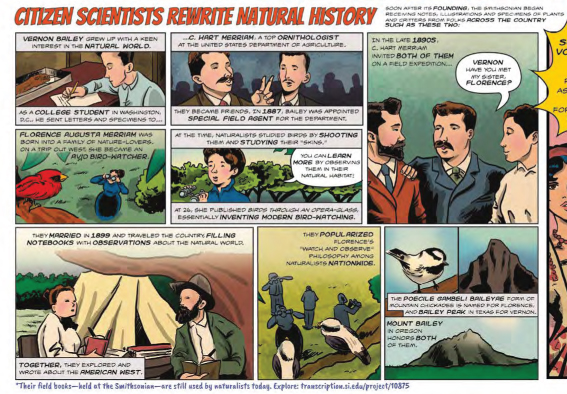 The comic about Florence August Merriam and Vernon Bailey shows how the 19th century science power couple completely changed the study of birds. The literal bird-eye views show the birds up close and the observers far below them. This emphasizes their approach to studying birds—one that radically changed the field and invented modern birdwatching.
Highlighting the Result
T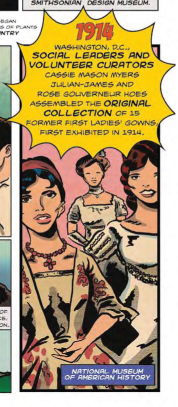 he story of how the First Ladies' gowns were collected for the National Museum of American history is an interesting story—but the strongest way to show it visually is by their success. Showing a bunch of people in conversation over and over isn't nearly as fun as looking at three of the gowns.
Introducing Complicated Topics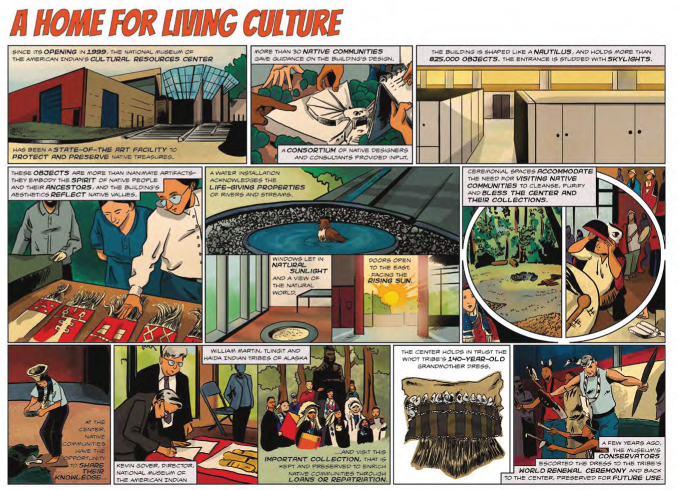 Comics can take a complex topic and make it easier to understand. Illustrating the story of the NMAI Cultural Resources Center makes the it easier for readers to learn how this unique facility works.
First-Person Storytelling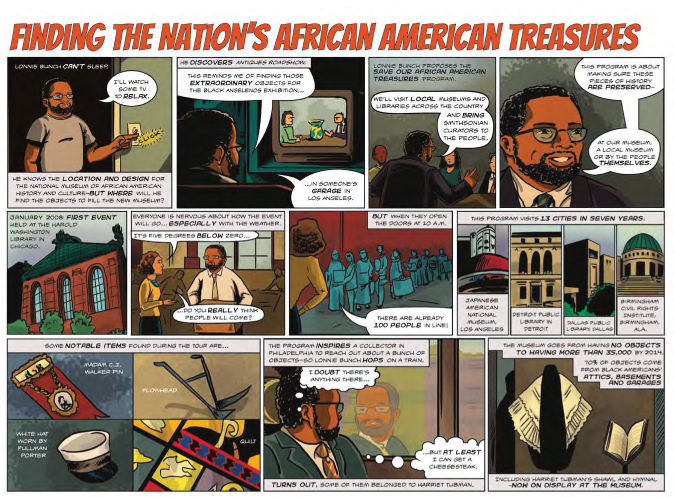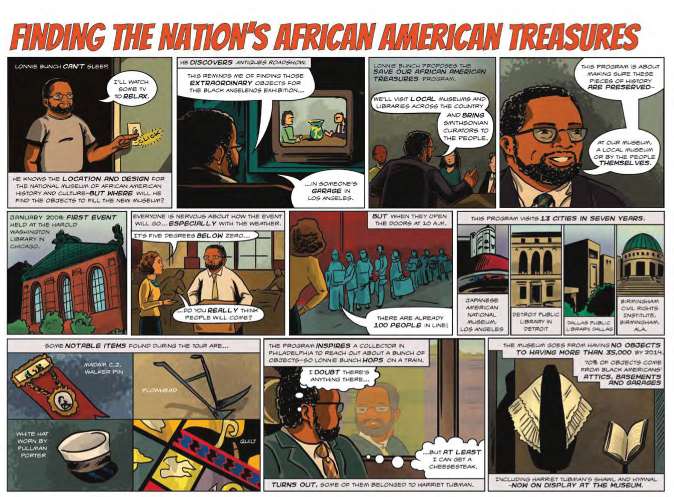 The speech and thought bubbles used in comics let a specific narrator explain (or think through) tough problems. The reader gets to see how a main character approaches a situation.
Be sure to check out the entire comic (here's that link again) to see more moments of innovation!