An interconnected world allows for the easy transmission of ideas, commerce, scientific discoveries, and so many other things … like communicable diseases. The National Museum of Natural History's new exhibition, Outbreak: Epidemics in a Connected World, explores how microscopic pathogens can cause widespread disease outbreaks. When outbreaks occur, epidemiologists, veterinarians, public health workers, and others all work to identify and contain the infection. These pathogens wreak havoc in communities—not just affecting health, but also leaving huge social and emotional impacts.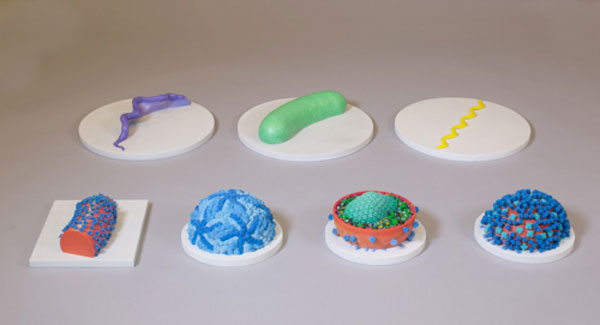 And therein lies the tricky part for the exhibition: the impacts are huge, but the pathogens are too small to be seen by the naked eye. Exhibitions are by definition a three-dimensional, visual experience. In order to give the pathogens more prominence, the National Museum of Natural History opted for 3D prints of the microbes at scales that, well, honestly are kind of terrifying when you consider what these pathogens do.
Our model maker Carolyn Thome and National Museum of Natural History designer Julia Louie used 3D pathogen files downloaded from the National Institute of Health's 3D print exchange. (The downloads are free and are handy tools for educators, medical professionals, scientists, and others.) Carolyn manipulated the files to digitally cut the models in half and place them on bases she created using CAD software.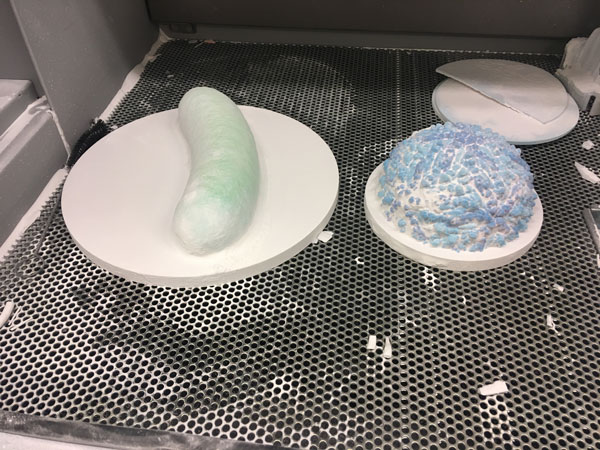 She printed her models in color, rather than painting them. It wasn't necessary to have a true-to-life paint job because the pathogens' colors aren't based on their innate colors, but rather are applied to make it easier for visitors to understand their shapes.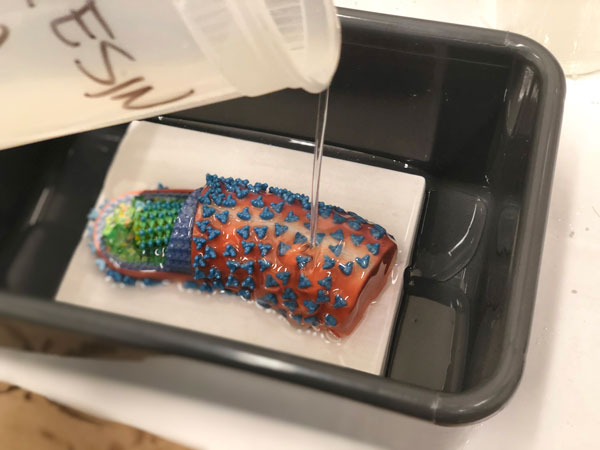 The finished models needed an epoxy infiltration to give them stability and an even sheen. The heat and resin work together to create a chemical reaction that makes a sturdy finished product, but because of the viscosity and quick setting time, Carolyn only had approximately twenty minutes to finish each resin coating.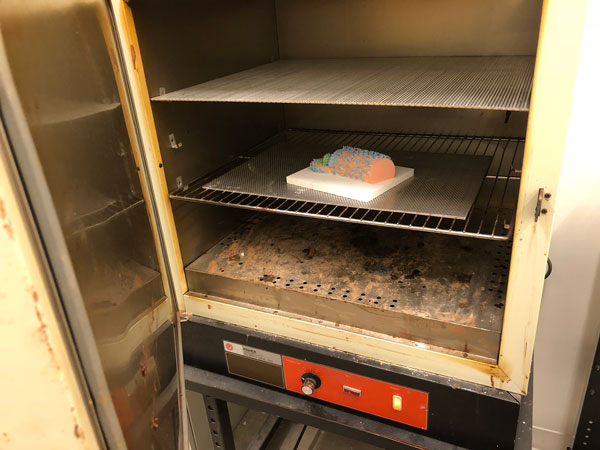 If a model needed a second coat of resin, Carolyn needed to place it in a vacuum chamber and then repeat the speedy process.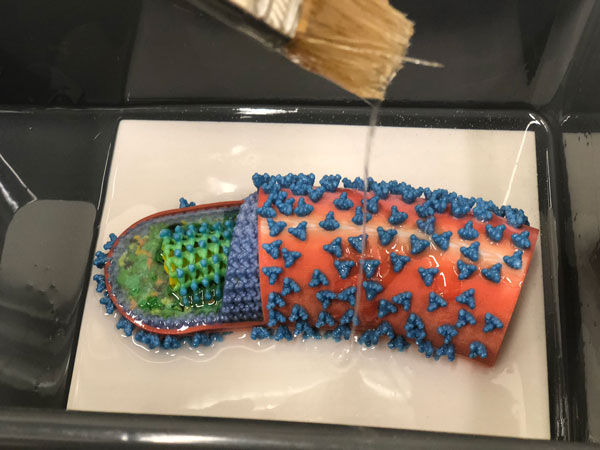 Outbreak will be featured on the second floor of the National Museum of Natural History for roughly three years before it's contained in 2021.