Here's a tricky one: How do you write exhibit text for a new museum when your content experts have top security clearances and can only share a fraction of their content with you? Mission: DIA offered many tricky and interesting questions. For example: will they tell me about REDACTED REDACTEDREDACTEDREDACTED if I ask really, really nicely? *
Working on a museum about an agency that produces, analyzes, and disseminates military intelligence information creates some interesting workflow protocols. When SIE began working with the Defense Intelligence Agency (DIA) on Mission: DIA, we knew that we'd have to build a museum from scratch because their atrium didn't have an existing museum space. We knew that we'd work with their historians and other experts to create a museum script that told complicated stories. We knew that the graphics would have to convey complex information. And we knew that there was a lot we didn't know, weren't allowed to know, and probably won't ever get to know.
Our unconventional workflow more or less went as follows. First topics were brainstormed, then discussion would follow. As ideas were suggested and settled on, the DIA historians would determine the exact story they wanted to use, and then go off to confirm that the details needed to tell the story well were cleared for use or could be cleared quickly. And lest you think that SIE got to go through all the super-secret stuff, everything had to be declassified before it came to our office, too.
Reading redacted documents became just another part of my day. Eventually, I started to wonder, is this where they blacked out the REDACTED about REDACTED? Despite my strong desire to find out REDACTEDREDACTEDREDACTED and read up on the REDACTEDREDACTEDREDACTEDREDACTED REDACTED REDACTEDREDACTEDREDACTEDREDACTEDREDACTEDREDACTED the historians I worked with at DIA made sure everything was properly declassed before it reached me and my low (so very, very low) security clearance. (NOTE: I know nothing. I'm not worth kidnapping. Not. At. All.)
Mission: DIA opened its first phase in the summer, and more phases are underway. After vetting, scrubbing, redacting, and whatever else might be required, the photos from the first phase's opening were released to us. So now, unlike the exhibition's source material, I can talk about the first phase of the project.
The Mission: DIA project posed a number of challenges, not unlike REDACTEDREDACTEDREDACTED REDACTED REDACTEDREDACTEDREDACTEDREDACTEDREDACTEDREDACTEDREDACTED. One challenge was that there was no existing museum and the exhibition was to be built inside a large open space. This meant the designer had to create a "room within a room" in order for there to even be an exhibition.
The first section to open, Exposing the Truth, explores DIA's role in bringing unseen threats to light. The exhibition delves into the escalation of Soviet weapons programs during the Cold War, the Cuban Missile Crisis, catching a spy within the agency, and the H1N1 flu pandemic.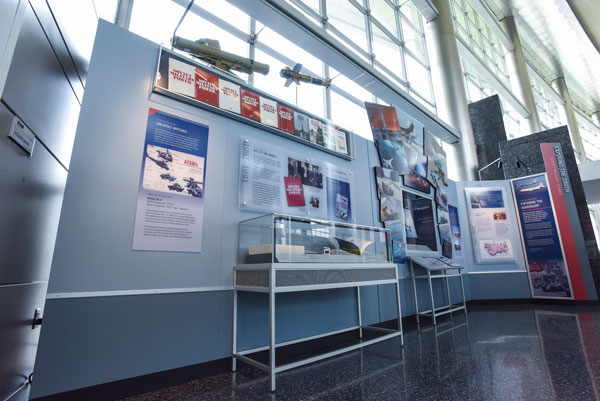 As excited as we are to have the first section open, we look forward to continuing our work on the rest of the museum.
The museum REDACTEDREDACTEDREDACTEDREDACTEDREDACTED REDACTED REDACTED REDACTED REDACTEDREDACTEDREDACTED REDACTED REDACTED REDACTEDREDACTED REDACTEDREDACTED is REDACTED REDACTEDREDACTED open REDACTEDREDACTED. It REDACTED REDACTED REDACTEDREDACTED REDACTED REDACTEDREDACTEDREDACTED REDACTED REDACTED went REDACTEDREDACTEDREDACTED REDACTEDREDACTED REDACTEDREDACTED REDACTED REDACTED REDACTEDREDACTEDREDACTED REDACTEDREDACTEDREDACTEDREDACTED REDACTEDREDACTEDREDACTEDREDACTED REDACTEDREDACTEDREDACTED REDACTED REDACTEDREDACTED REDACTEDREDACTEDREDACTED REDACTEDREDACTED REDACTEDREDACTEDREDACTEDREDACTED REDACTEDREDACTED REDACTEDREDACTED well  REDACTEDREDACTED REDACTED REDACTEDREDACTEDREDACTEDREDACTEDREDACTEDREDACTED REDACTED REDACTED REDACTEDREDACTED REDACTEDREDACTED REDACTEDREDACTEDREDACTED REDACTED REDACTEDREDACTED REDACTED REDACTED REDACTEDREDACTEDREDACTEDREDACTED REDACTEDREDACTED REDACTEDREDACTEDREDACTED REDACTEDREDACTEDREDACTED REDACTEDREDACTEDREDACTED REDACTEDREDACTEDREDACTED!
*No. No, they won't.