Guest post by Caroline Chang
Smithsonian Exhibits often has interns throughout the year for ten-week periods. Like many college students, my internship ran from June through August. Since it is now August, my internship has ended and I'm preparing to return to school. I am a rising junior at Kenyon College where I am double majoring in Studio Art and Art History with a minor in Italian.
At Smithsonian Exhibits, I primarily shadowed Ms. Mary Bird, Assistant Director, Programs with project management and design. As an intern, I was exposed to project management, design, and graphic production. I helped draft estimates, created and updated spreadsheets, took inventories of mounts and filed their corresponding object tickets, and put vinyl on banners.
With Mary, I sat in on meetings related to different ongoing projects across the Institution. For the National Museum of African American History and Culture, I worked on a banners project. Smithsonian Exhibits has been developing ideas for signage commemorating the museum's grand opening. Other signage in that project includes small banners at lampposts surrounding the Smithsonian Castle, end panels around the National Mall, and advertisements on the Circulator buses. Some of the signs around the museum will feature signature artifacts, including a trumpet owned by Louis Armstrong. As part of our research, we were able to go into the storage facilities, where we viewed the gelatin silver print of Frederick Douglass, which will also be featured on a sign.
One of my favorite parts about this internship was going with the Graphics department to watch them install a mural at NPG. I have never seen an install before and watching them transform the space was really interesting.
It was a very productive summer full of learning and opportunities. I'm not sure exactly what my future career will entail, but I am sure that the experience from this internship will be very beneficial.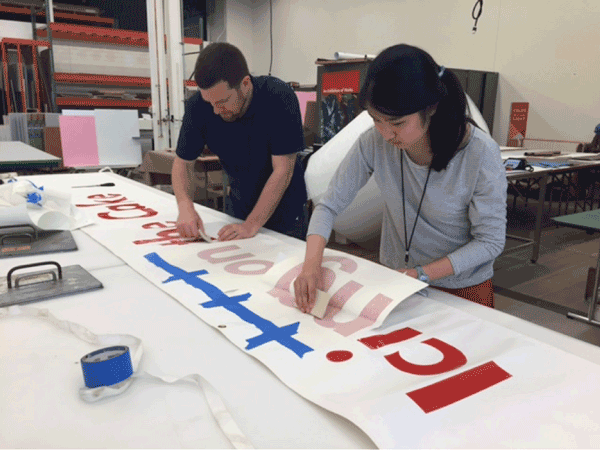 Editor's Note: If you're interested in interning or volunteering at Smithsonian Exhibits, you can check out our opportunities here.