On December 12, Cooper Hewitt Smithsonian Design Museum reopened to the public after a lengthy renovation. One of their opening exhibitions, Tools: Extending Our Reach, features 175 objects that have shaped human life. Creating mounts for the ancient artifacts featured in Tools posed some unique challenges.
The mounts needed to display the object without obscuring it. Due to their age, the objects cannot be handled excessively making measuring difficult, and in the case of hand-carved tools, even if we could handle the objects freely, their uneven surfaces aren't easy to measure anyway.
So how exactly can OEC make these mounts? How do we know that
this

 will fit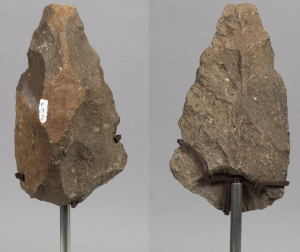 this?
Megan Dattoria, OEC mountmaker and 3D printing innovator, is using cutting edge technology to create custom brackets that are a perfect fit for each object. She was kind enough to explain how she makes custom mounts with minimal object handling. (The object in the photos below is a modern interpretation of an ancient stone tool like the one shown above.)